I will install Divi WooCommerce Extended Plugin For Lifetime
0

days
00

hr
00

min
00

sc
| | |
| --- | --- |
| Service For | Unlimited Website |
| Require Theme | DIVI Theme |
| License Type | GPL |
| Deadline & Update | Lifetime |
| Support | 24/7 Free customer support |
| Delivery | Delivered within eight working hours. |
Guaranteed Secure Payment
Overview
Build a highly functional and extraordinary Divi store by spending less time using the WooCommerce Extended plugin. It includes multiple intuitive and innovative Divi modules that furnish you with the power to shape your Divi eCommerce store magnificently per your liking. The Divi shop modules available in this plugin even provide you with more options and functions to optimize its use and the Divi store's ability to perform. Try WooCommerce Extended risk-free for 30 days to discover the best!
Outstanding Divi WooCommerce modules to display mini cart, product grid, product categories, and carousel with great customization control.
From optimizing WooCommerce products' look to displaying them on a carousel, the 5 available Divi WooCommerce modules mentioned below let you perform various actions to complete your Divi store in every sense — thus making WooCommerce Extended the only tool you'll need for your eCommerce website. No other Divi shop builder plugins are required.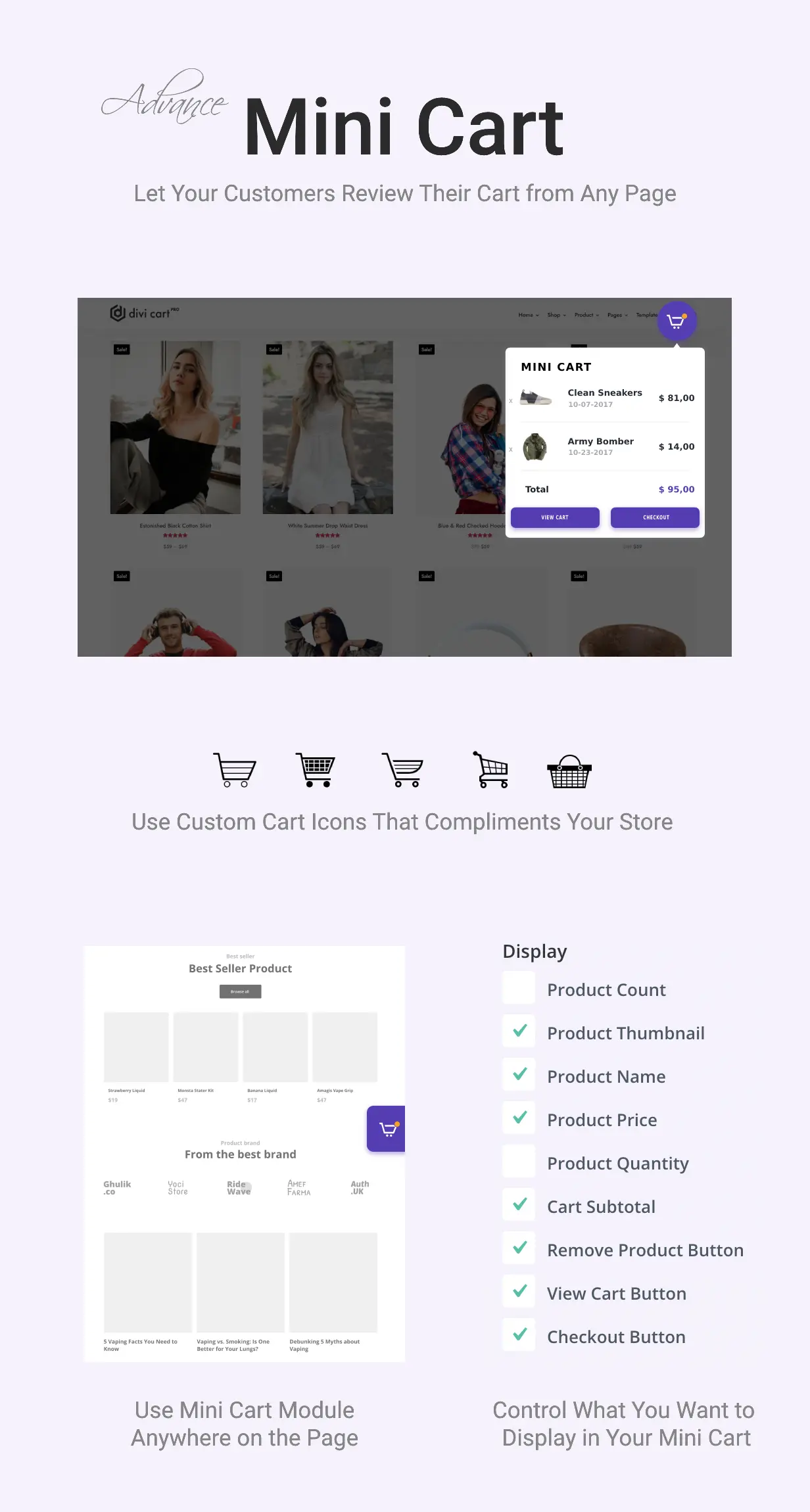 Mini Cart – to allow users to quickly view products in the cart
Help your customers save their time from opening cart pages again and again by providing a mini cart in the menu or anywhere on the shop's pages. With a mini cart on the shop, customers can quickly review what they've added to the cart, what they want to remove, and what they want to checkout with. It's quick, simple, and easy to access.
And that's not all; you can perform even more actions to optimize your Divi store's functionality with the Divi Mini Cart module. Actions like
Display Mini Cart with custom cart icons
Choose up to 9 Elements to display in the Mini Cart, such as product count, Subtotal, Checkout button, and more.
Trigger Mini Cart view on click.
And a lot more, easy-to-use options to utilize the module to the fullest.

Divi WooCommerce products module – Enable Quickview for products and customize them better
Give your Divi store's products a new look with the help of the Divi WooCommerce Products module. Or create a shop with products that look out-of-the-box. Using this module available in the WooCommerce Extended plugin, you can display products that are customized on a deeper level like,
Show them in a masonry and grid layout.
Increase columns for products up to 6.
Adjust column spacing with ease.
Enable Quickview option with highly customization options.
Add products on the shop that are featured; of different categories and tags.
Hide 'out of stock' items.
Apply taxonomies relations (AND | OR.)
Display pagination, custom sale badge text, products' star rating.
Enable pagination for products.
Customize regular and sale price text.
Show product thumbnails of different styles.

Divi Products Carousel module – Display products using an interactive slider
With Quickview and enhanced look, optimize your Divi store's products even more by showcasing them on a beautiful, interactive, and engaging carousel. And not simply display products on the slider. Instead, customize them using additional options to impress your customers phenomenally. Using the additional options of the Divi Product Carousel module, you can,
Create WooCommerce Products Carousel of Slide, Flip, Cube & Coverflow sliding effects.
Enable Quickview for carousel products as well.
Customize Slider Arrows native icons and place them at over 8 different locations.
Apply different styles for pagination like Solid dot, rounded line, dynamic pagination, and even more exciting options to work with.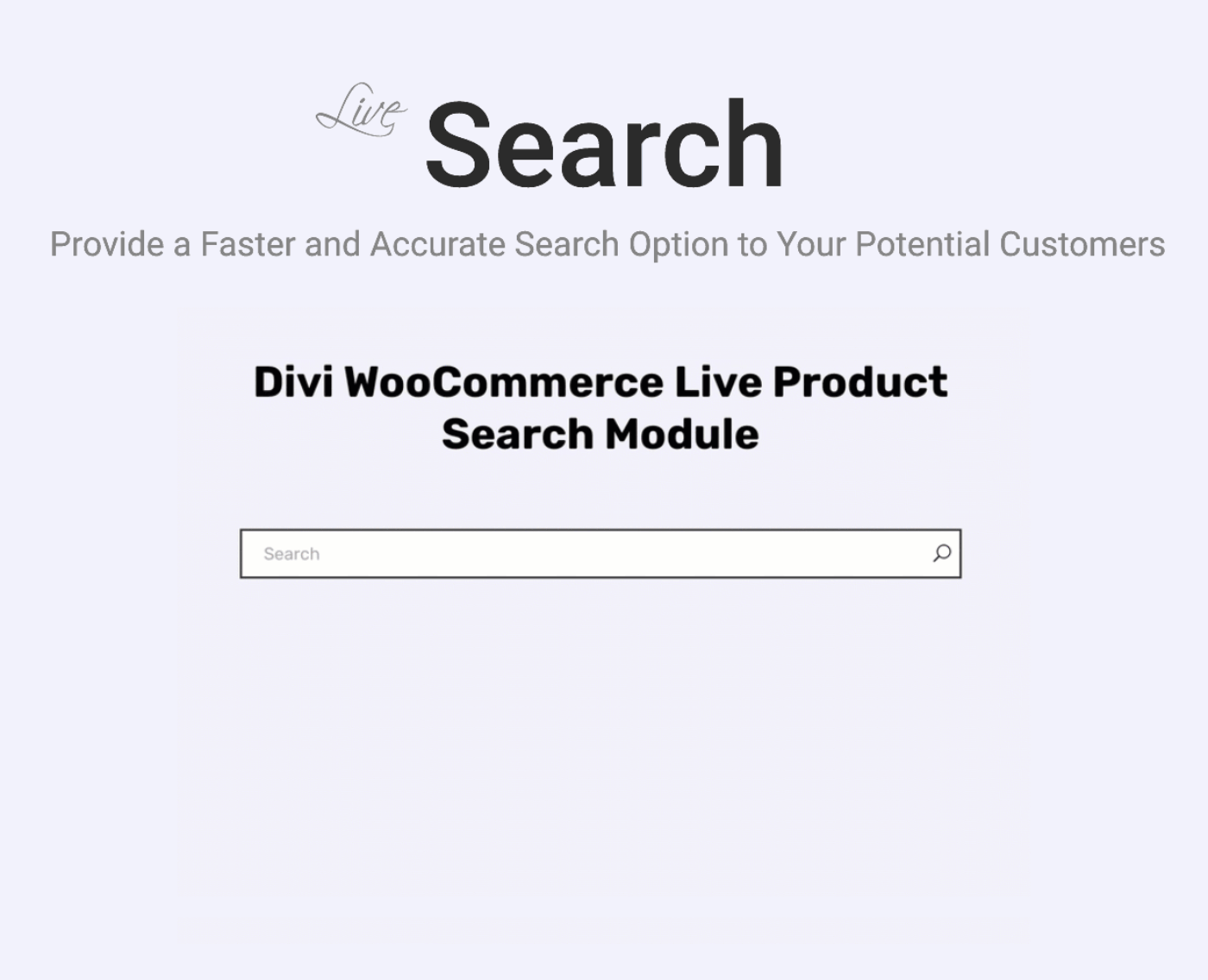 Ajax Search Module for live searching WooCommerce products
Make your Divi WooCommerce store even more accessible by providing a faster and accurate search option using the Ajax Search module. This module allows you to easily add a highly functional search field that makes it quick and simple for customers to find out their favorite products. Whenever users run a product search on the field created by this module, they'll find their results right underneath it with title, image, or other information as per your customization. Using this module, you can
Allow the module to run the search query in title, content, product categories, product tags, SKUs, and more.
Display multiple no. of products in the search result.
Sort them in different orders and order types.
Adjust search results no. of columns.
Showcase and customize search icon & loader.
Easily define custom search placeholder for WooCommerce products.
Option to show/hide results scroll bar.
Even open the results in the same or new window.
Apply different search field customizations such as field background, text color, focus background color, and much more.

Divi WooCommerce Categories module – Assemble products categories on a single page with an enhanced look
Got multiple WooCommerce product categories on your Divi store and want them to be displayed on a single page? Or want them to add on the site from where users can easily access the products of those categories? Then guess what? Using this module of WooCommerce Extended, you can easily do that. It enables you to create product categories and customize them to engage users for enhanced user experience and sessions. You can showcase different product collections with products counts, attractive backgrounds, titles, and more. Try the plugin today to find out more.
Tab Manager Extension
Divi WooCommerce Extended includes a tab manager extension. This feature allows you to add more information to your products in tabs along with the native WooCommerce Description, Additional Information, and Reviews tab.
Using the WooCommerce Tab Manager extension, you can easily create an additional tab for your products which can be applied at the global, product, or category level. This feature could be a great help if you are looking to add options for a contact form, documentation, map or any other information.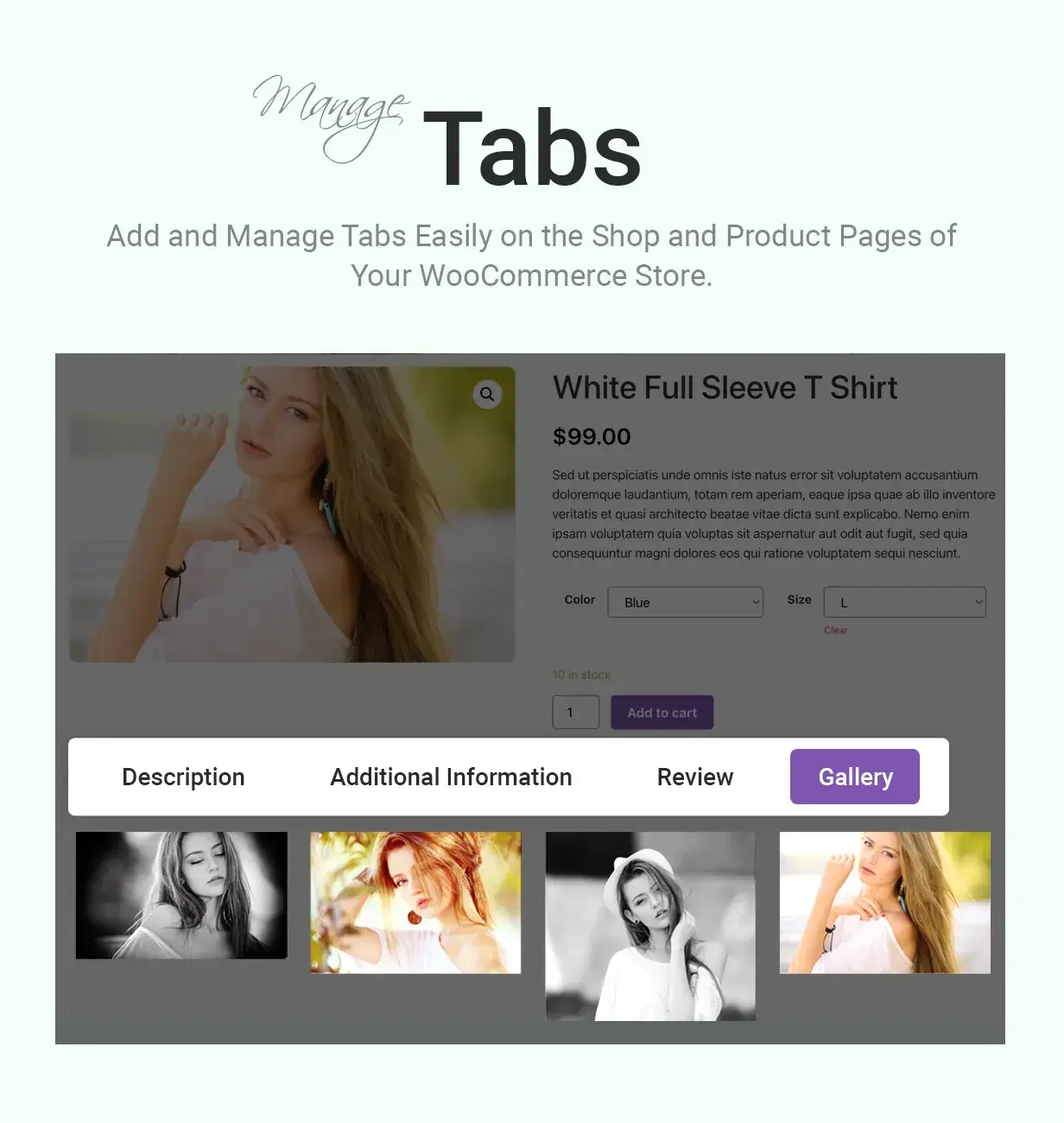 Library Shortcode Extension
Need a shortcode for a Divi Library item? Get it easily and embed it anywhere you like.
Regular updates
To ensure quality, safety and add new features to the plugin, the WooCommerce Extended will receive frequent updates. So, you can create a more beautiful and highly functional Divi store without doubt and concern for your digital store's security.