I will Install Divi Testimonial Plugin For DIVI Unlimited Website
0

days
00

hr
00

min
00

sc
| | |
| --- | --- |
| Require Theme | DIVI Theme |
| License Type | GPL |
| Deadline & Update | Lifetime |
| Delivery | Delivered within eight working hours. |
| Support | 24/7 Free customer support |
Guaranteed Secure Payment
Testimonial Plugin for Divi
Testimonials play a crucial role in growing an online business and brand visibility. Therefore, it's important that your website showcases them in a much more beautiful way, which appeals to the viewer and puts a positive impression on them.
And Divi Testimonial Extended plugin does that very effectively.
Using the Divi Testimonial Extended plugin, you'll be able to create testimonials that are unique, impressive, and rich in design. It adds a testimonial slider to the website that can display multiple numbers of testimonials without any problem. Plus, multiple layouts and customization options make Divi Testimonial Extended the #1 choice of designers and web developers for adding testimonials on the website. Compatible with Divi ( earlier versions than 2020), Divi 4.0, and its both page builders: Visual and Classic.
6 Testimonial layouts
4 Testimonial slider animation
Testimonial grid 🔥
Multiple column control for each layout
Custom Post Type
Highly customizable module
Inbuilt testimonial form module 🔥
Multiple Testimonial Slider Layouts
With more layouts come more design options. In Divi testimonial Extended, you get 4 different testimonial slider layouts under a single module as well as multiple slide effects that make testimonials even better than before.
6 Testimonial Slider Layouts
Layout 1
Create testimonials having reviews above author image, star ratings, and designation with the dual-color background option.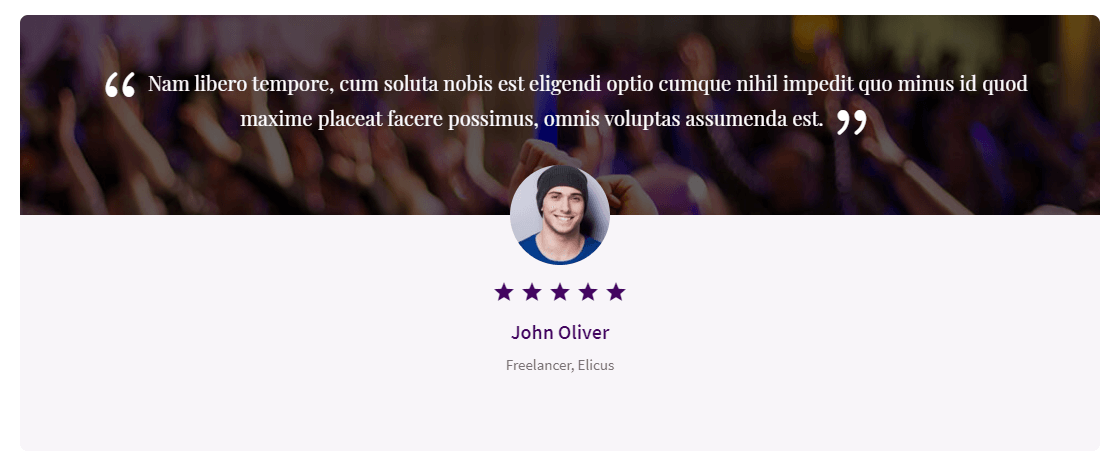 Layout 2
Allows users to create testimonials with star ratings and reviews above the author's image. More options are available to change the full background color with a separator.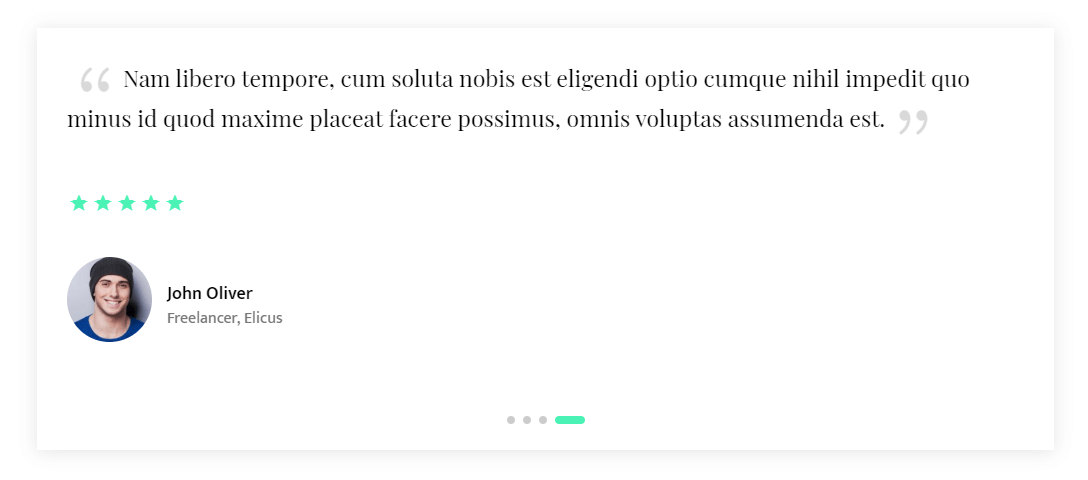 Layout 3
Allows image above the review and star rating.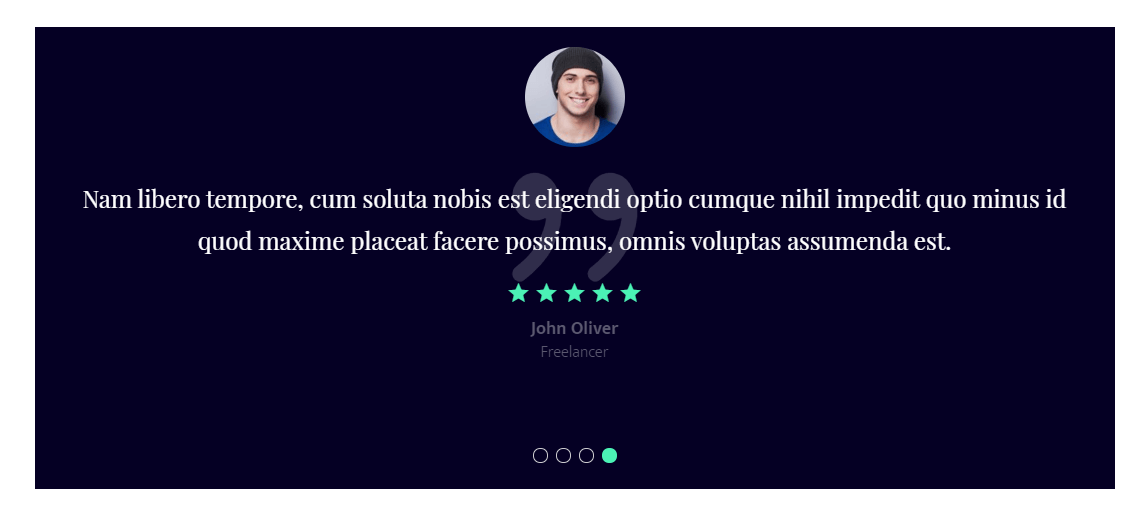 Layout 4
Add testimonials with star rating above review and author image. Plus, a cool visual effect over the author's image, that makes the image invisible when a testimonial is in front.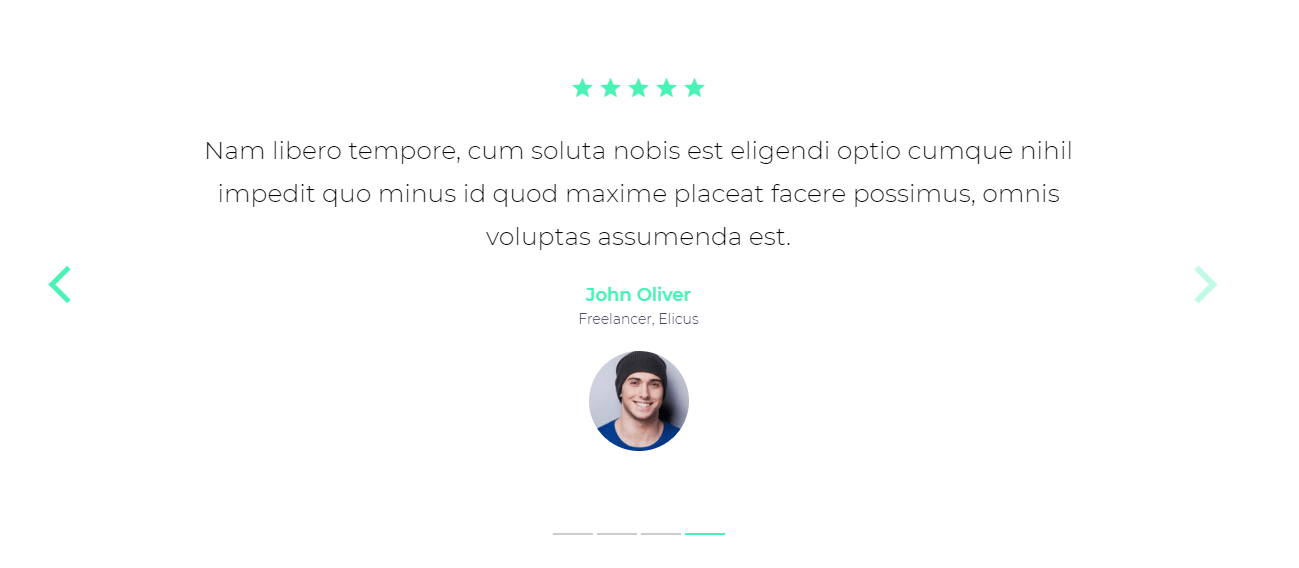 Layout 5
It allows you to create a testimonial slider with the author's image and start rating right next to the review text.

Layout 6
It adds author image & designation above review and star ratings.

Cool slide effects available with all the testimonial layouts- Slide
Cube

Coverflow

Flip

Custom Post Types for testimonials
Divi Testimonial Extended allows users to create custom post types for testimonials with category support. So, users can easily select what category of testimonial they want to display on the page or which not.
Testimonial Grid
Divi Testimonial Extended now lets you choose from Grid and Slider to display your testimonials feed.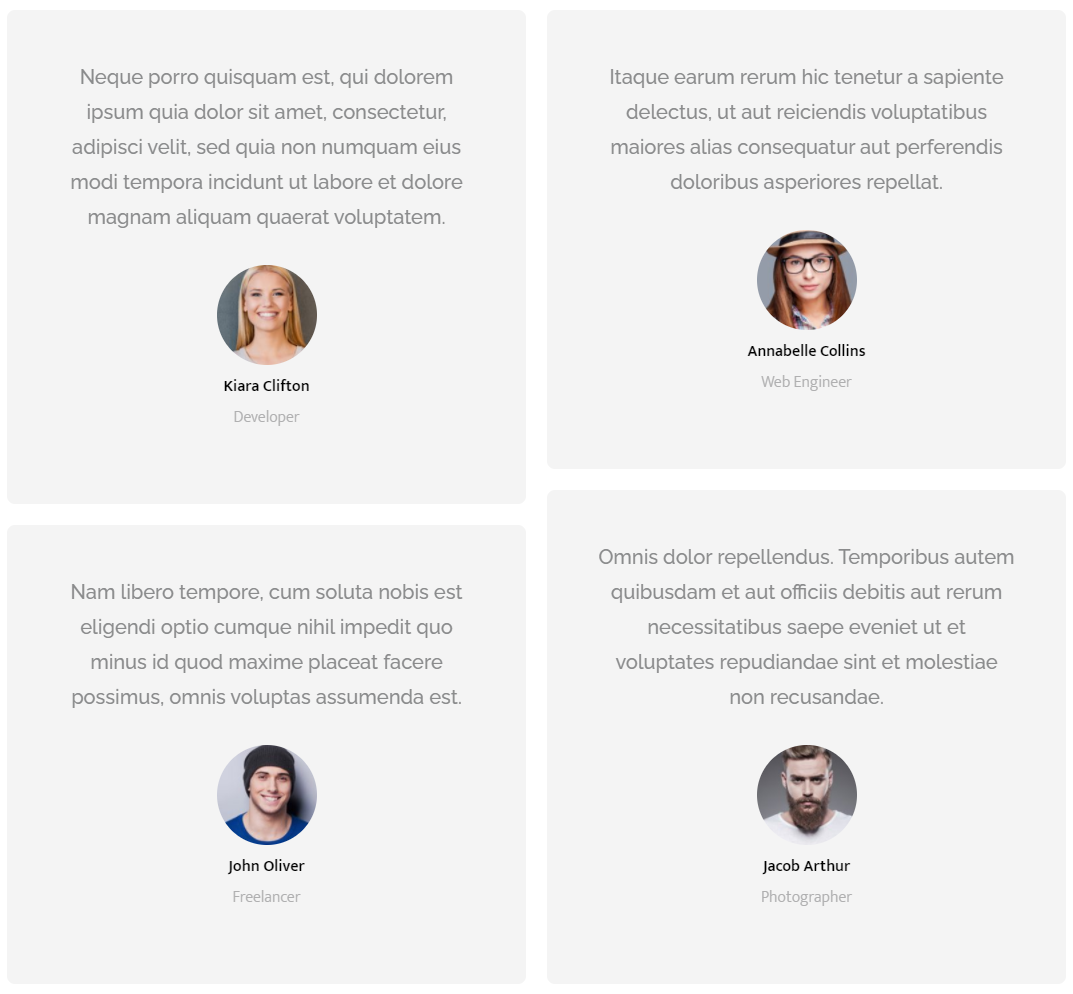 Testimonials Per View Option
Using this plugin, you can display multiple numbers of testimonials on a single slide using the function Number of Testimonial Per View. Gives the testimonial slider a vibrant look that makes it even more attractive and appealing.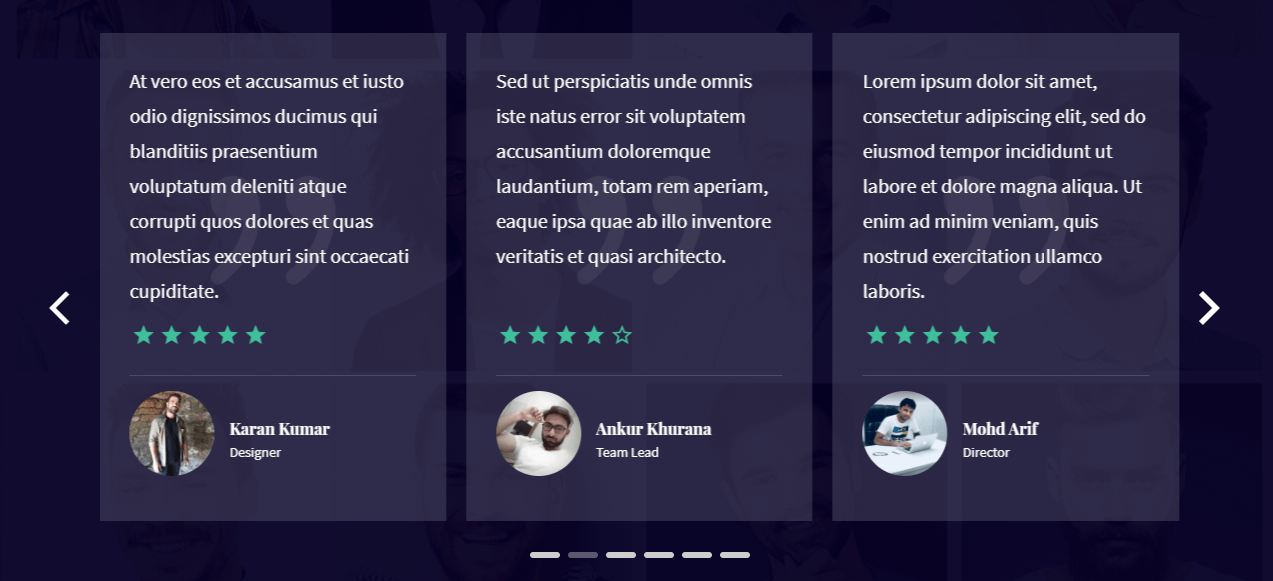 In addition to this, you can also select how many total numbers of testimonials you want to display in a single module using the Number of Testimonial option.
Customize Review Author Image
In the Divi Testimonial Extended plugin, you can customize the review author image as follows-
Option to choose image shape to Round or Square. And add author image using the Gravatar account.
Multiple Pagination Styles
Make your testimonial slider look even more beautiful and modern using the multiple pagination styles available in this plugin.
Available pagination styles
Solid Dot
Transparent
Stretched Dot
Line
Rounded Line
Apart from these multiple pagination styles, you can also apply color on active & inactive paginations.
Multiple Testimonial Slider Arrow Styles
Not just pagination styles with Divi Testimonial Extended plugin, you've also got the option to use different slider arrow icons on the layouts that makes testimonials sliding real fun.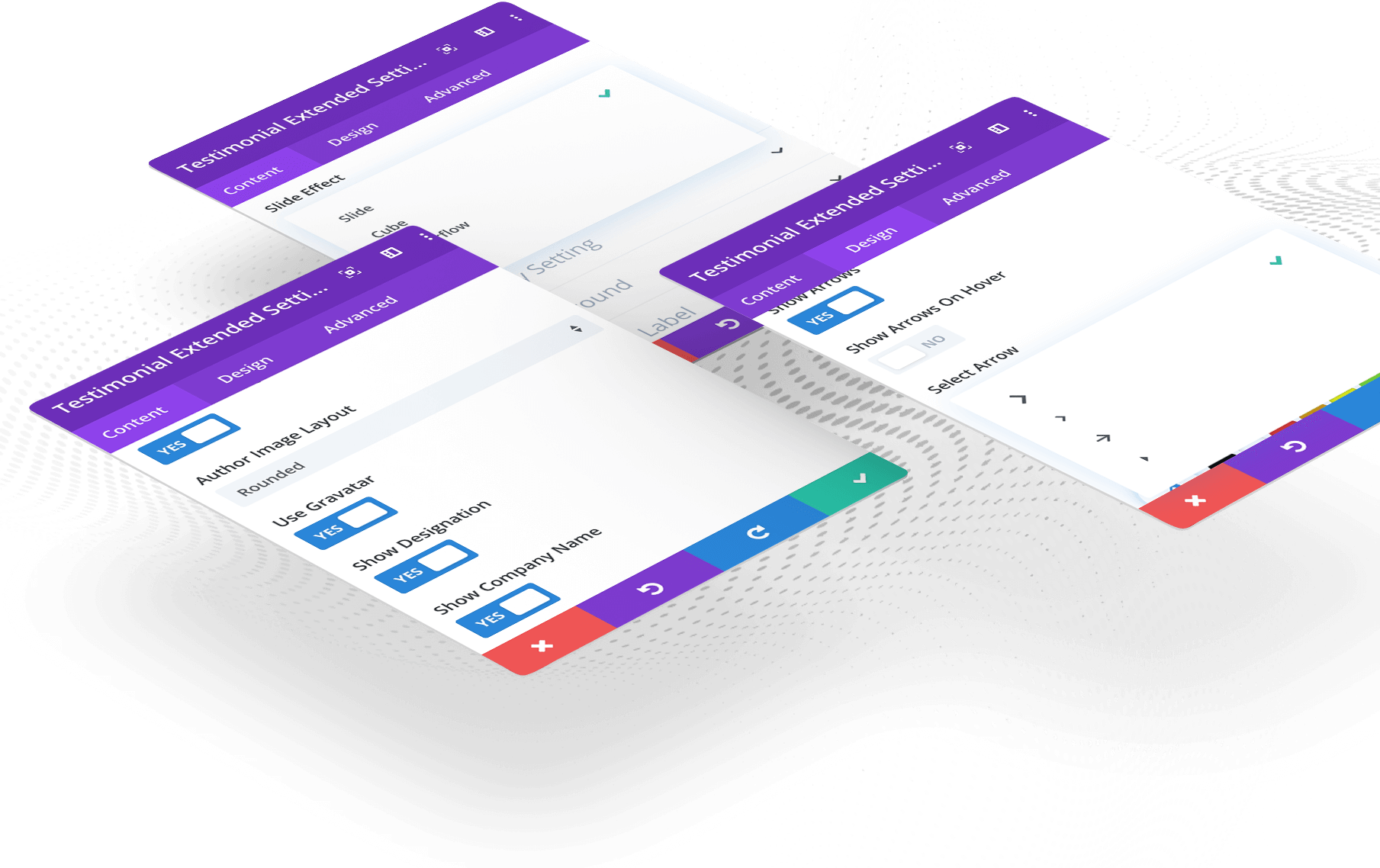 More customizations you can apply on the slider arrow icon
Multiple Arrow Icon Styles
Option to display Arrow Slider or not
Change Arrow Icon Size
Change Arrow Icon Color
Front-end testimonial submission form
With the inbuilt testimonial submission form module, create a front-end form to receive testimonials directly from the website.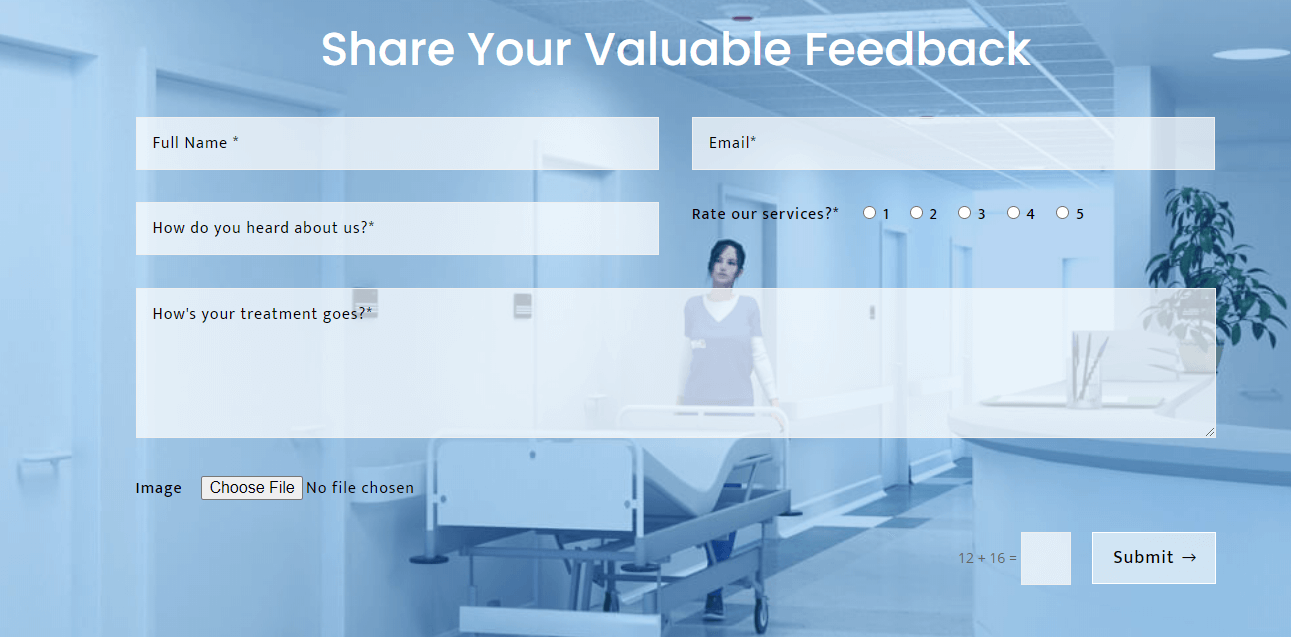 And many more amazing features
Divi Testimonial Extended is filled with amazing features; you've got plenty of options to make your testimonials look elegant in every way. Take a quick look at all the features available in this plugin other than those mentioned above.
An easy-to-use plugin.
Compatible with Divi's previous and current versions including Divi 4.0
Fully functional on Divi's both Visual and Classic page builder.
Its compatibility with the visual builder gives you the opportunity to see changes live that have been made by you, which makes it more likely to be used for creating appealing testimonials.
Show Designation and Company Name.
Display testimonials with Descending or Ascending order.
Option to choose Order Type: Date, Random, or None.
Choose a specific Category to display testimonials.
Option to choose layout background customization type: Image or Color.
Use Dual Color for Layout Background.
Option to choose an individual color for all the meta text.
Choose a color for review text.
Opening and Closing quote settings: Change quote size and color with custom positioning.
Multiple Star Customization: Change Star Rating Size, the color of rated and unrated stars, and more.
Using the Divi Testimonial Extended plugin and its all features, you'll always create something unique and better for displaying testimonials on the website. Choose it now to create attractive testimonials that leave a long-lasting positive impression on the website visitors.