I will install Divi Blog Extras Plugin For Lifetime
0

days
00

hr
00

min
00

sc
| | |
| --- | --- |
| Service For | Unlimited Website |
| License Type | GPL |
| Require Theme | DIVI Theme |
| Deadline & Update | Lifetime |
| Delivery | Delivered within eight working hours. |
| Support | 24/7 Free customer support |
Guaranteed Secure Payment
Divi Blog Extras is a powerful and feature-rich blog layout plugin for Divi powering more than 25,000 websites.
An easy-to-use Divi plugin that has a fast and intuitive blog module to create beautiful & attractive blog archive pages without writing any code. It includes 8 different blog layouts with several layout variations that support creating archive pages of Category, Tag, Author, Date, Custom Post Type, and Custom Taxonomies. Plus, using its highly customizable options, you can add a category filter bar on top of the blog pages to make it easy for users to browse content from different categories. Moreover, it could also be used in Divi Theme Builder for Archive templates.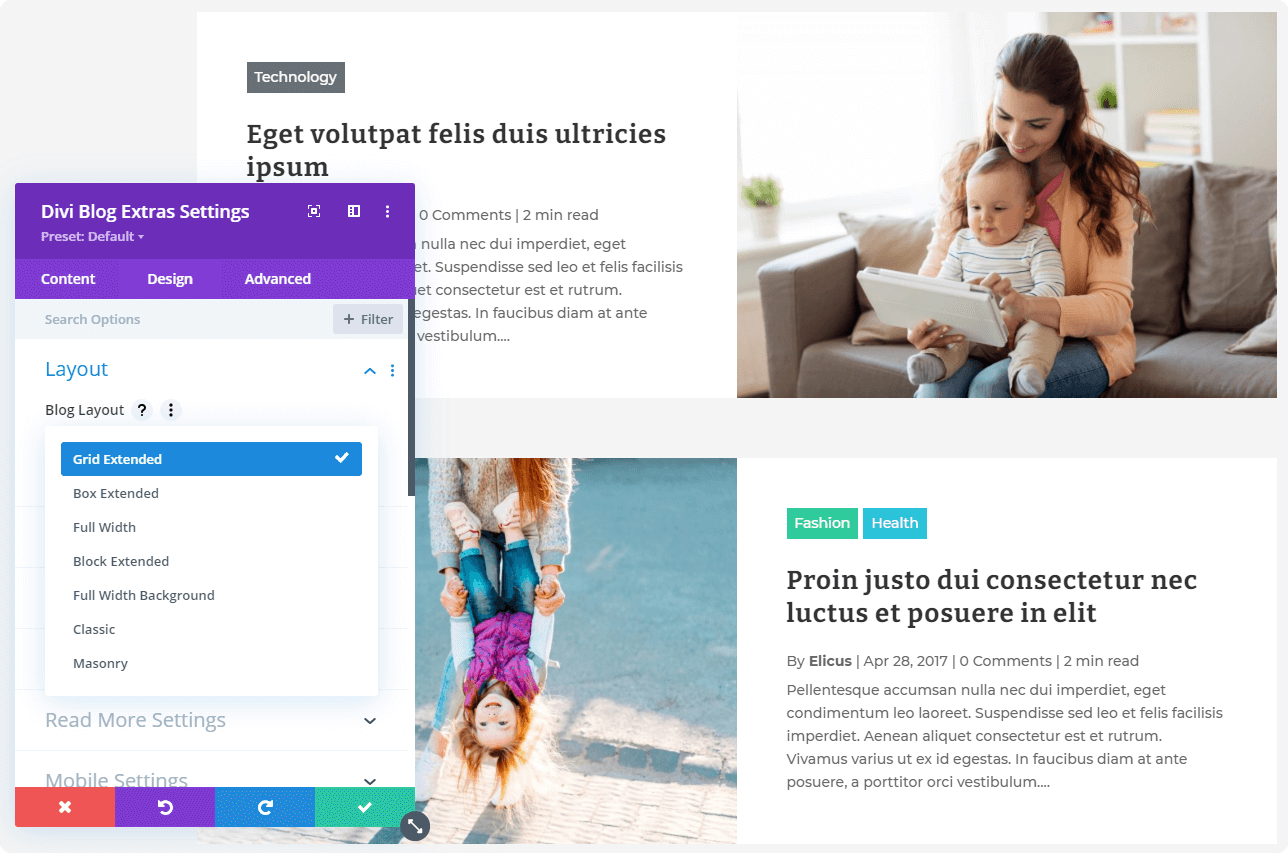 NEW: Slider Blog Layout to Showcase Posts on a Carousel 🔥
The Divi Blog Extras plugin works on these two principles:
1. Layouts.
2. What content can the layouts display.
The plugin adds a new blog module in the Divi builder with 8 premade layouts: Gird Extended, Box Extended, Fullwidth layout, Block Extended, Fullwidth Background, Classic, Masonry and Slider layout. With all these different layouts, you also get layout variations in each of them. Check out the primary layouts and their variations below
1. Box Extended
2. Grid Extended

3. Block Extended (three variations)

4. Masonry

5. Classic

6. Fullwidth
7. Fullwidth Background
8. Slider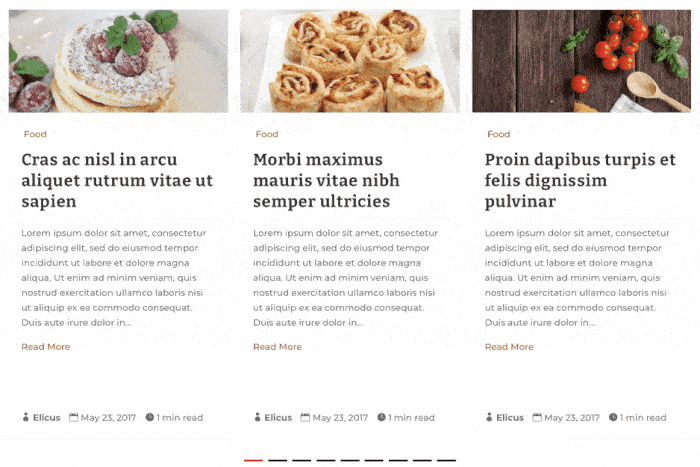 Bring every post to a beautiful slider that makes them look worthwhile and increases user interaction. The blog Slider layout available in the Divi Blog Extras allows you to easily create blog pages with post sliders rotating posts in elegant styles such as Flip, Cube, Coverflow, and Slide.
Furthermore, it provides you with the option to make the most out of your blog pages, like you can select what category posts you want to display on the slider. Should it show the Read More link or not. Whether it should have sliding arrows or pagination dots to make it easier for users to slide posts and select their favorite ones. And there are many different features that you can apply to your sliding Divi blog pages and make them look better.
Exciting Features of the Slider Blog Layout
These are the easy-to-apply intuitive features you get with the Divi Blog Extras Post Slider module,
4 Slider layout variations — Background Cover, Vertical Grid, Grid Extended, and Block Extended.
4 Slider layout effects — Slide, Flip, Cube, and Coverflow.
Display the number of posts per slide up to 10.
Slide posts in groups up to 10.
Add space between slides.
Control to equalize slide height.
Control to enable slider loop.
Autoplay slides.
Control to pause the slider on hover.
Show and customize slider arrows.
Show and customize slider pagination dots with 6 different styles.
And many additional useful features.
That's not all! We have more than 40 customized blog pages that you could download and use right away with Divi Blog Extras.
What content can the layouts display?
Divi Blog Extras module can be added to any page that uses the Divi builder and displays the content of the following post types and templates using its layouts.
Posts
Custom Post Types
Taxonomies
Search Result
Related Posts
The ability to use Divi Blog Extras as a blog layout plugin let users create stunning blog pages. The Custom Post Types and the Taxonomies support within the module provides the opportunity for users to display special content using the available layouts.
The plugin also works outside the Divi builder and can be used to create Archive pages.
Archives that can use the Divi Blog Extras layouts
Category Archives
Tags Archives
Author Archives
Date Archives
Custom Post Types Archives
Taxonomies
It also has a recent post widget, through which the user can display suggested posts in the sidebar under two layout options without any hassle.
Divi 4.0 Theme Builder support and the associated awesomeness
Divi Blog Extras module works as a Looper for the current Archive when used in the Divi Theme Builder template. This feature makes it possible to use the module in a wide set of Divi 4.0 templates.
50+ additional pre-built blog page layouts
The prebuilt layouts of Divi Blog Extras provide great customization options. We used that to create more blog pages and made them available to download and use for our users. These layouts use Divi Blog Extras and some custom CSS that is already included in your layout when you download it. All you need to use these prebuilt pages is to import them on a page using Divi page builder and you have your blog page ready.

Why use Divi Blog Extras?
Super easy to use.
Actively developed and maintained since 2017.
Top-selling third-party blog layout plugin for Divi.
Featured on Elegant Themes Blog.
Powers more than 25000 websites.
Includes Ajax load more button for pagination.
Includes numbered pagination.
Developer-friendly and support template override feature.
Includes 50+ free pre-built blog page layouts.
Includes support for custom post types.
Works with Divi Theme builder templates.
Include or exclude posts by ID.
Includes category filter.
Shows your blog in masonry format.
Works with Divi Theme, Extras Theme, and the Divi Page Builder plugin.
Category Filter (works only with native post types). The category filter also won't work on archive pages.
User-friendly plugin settings page.